Great Gatsby dress: ModCloth | pants: Target | sunglasses: Charlotte Russe | boots: Shi

I'm trying so hard to be a good little blogger and update more regularly! These outfit photos are from Monday. I loved this outfit, but then I started feeling really sick, so the outfit had to go to waste. However, I was determined to have something to post, so I braved the elements for a few minutes to get these pictures.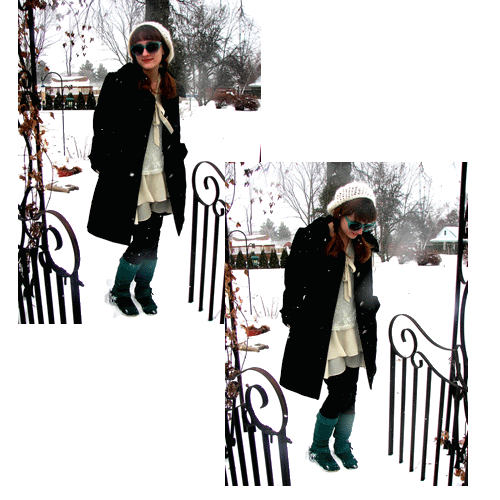 Please note: this will be one of the very few times you will ever see me wear pants. I don't like wearing pants. Not in the fun, nudist sort of way, but in the "I-prefer-dresses" sort of way.
You will, however, see me wear these sunglasses and these boots a lot. As you'll discover, I have a long-standing obsession with teal.
I'm definitely ready for warmer weather. This winter hasn't been too bad (especially for Michigan!), but lately I find myself longing for the little hints of springtime and summer. So, to add a little warmth to your Wednesday, here's some warm weather inspiration: vintage bathing suits!
(Image-heavy post ahead, because I am far too indecisive to pick favorites)
Clara Bow - how incredible is her outfit?! All of the above pictures are from
this flickr page.
Above images from
this fabulous flickr photostream.
Well, I don't know about you, but these photos effectively cured my winter blahs! So bright and cheerful. Esther and I hope to make swimsuits similar to these to sell in the store. I couldn't be more excited.
And yes, the store will be set up soon. I'm just waiting for my dress form to come in the mail, and then I'll be able to take pictures of the merchandise!
I hope you all have a lovely Wednesday!
Be well,
Laura