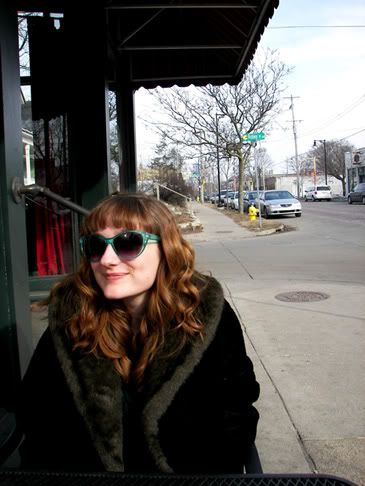 Well, as Esther said, Spring has sprung. Unfortunately, today (the first day of spring, no less), Mother Nature is PMSing something fierce. I awoke to a little blanket of snow outside...and yesterday, I was running all around town in a little sleeveless dress! Weird.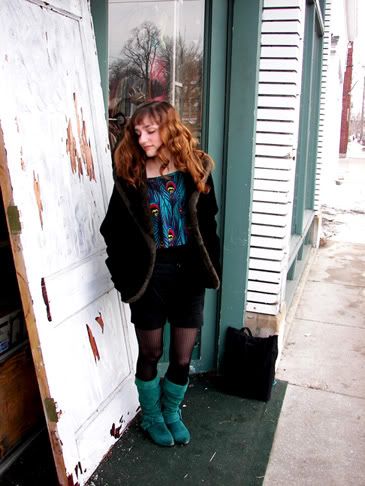 top: part of the "500 Days" dress, via ModCloth | tank top, tights, & shorts: Target | boots: Shi | coat: vintage, gift


These pictures are actually over a week old. Oops. They were taken in the midst of all the bridal show madness, so I've only had time to post them now. I love the peacock feather top - ModCloth never disappoints - but I'm so upset at myself. It came as part of a dress, but I spilled mayonnaise on it the very first day I wore it! So stupid...I'm trying to figure out a way to salvage it, because the stain is being quite stubborn.

I'm torn about the weather. On one hand, it's probably best if it's gray and gloomy until the semester ends, because otherwise I won't get anything done...but on the other hand, I'll be glad when the snow melts (or, as my dad put it, "When the last sneezes of winter are over"). I've got spring fever something fierce, which was not helped by walking around gorgeous East Grand Rapids yesterday with Esther. We're planning to move to that area in a few months, so we're doing house hunting and all that delightful stuff! Makes me long for summer days when I can ride around Eastown on my bike at dusk, maybe stop in to the Sparrows for some iced chai...oh well. It'll come! Right now I'll just enjoy life as it is, because it's kind of beautiful. I've got a ton of stuff on my plate (and some exciting opportunities coming my way) and I have to believe it will all work out.

Anyway, here's a wonderful music video I thought I'd share. It's bound to usher in some spring spirit. Enjoy!